2000 DAMON CORPORATION CHALLENGER 310 Review
I just finished my review on the 1998 WINNEBAGO ITASCA SUNRISE Motorhome, and I thought that the Winnebago was a little bit dated. Even though this one is a couple years newer, the interior made it really look out of date. Not that it's a bad motorhome, it just had a couple features that made it look dated compared to some of the newer Fifth Wheels for sale here in Fort Collins, or the Travel Trailers For Sale.
Tube Style TV in the middle console
Beige coloring throughout, including the carpet and carpet on the console.
Limited Countertop space
Smaller windows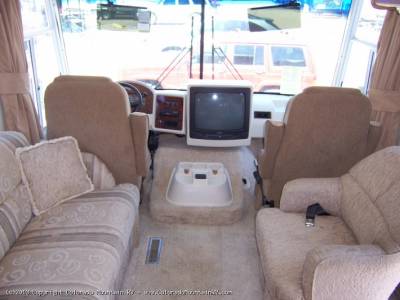 This could be a really nice motorhome at a good price point and depending how the motor runs, so keep that in mind when you are deciding on this motorhome.
Due to the limited spacing inside and the lack of slide-outs, you may be interested in checking out a price-comparable Fifth Wheel for Sale here.
Have you been inside a 2000 DAMON CORPORATION CHALLENGER 310? Write your thoughts below in the comments section.
By accepting you will be accessing a service provided by a third-party external to https://coloradomountainrv.com/