2007 KEYSTONE MONTANA 3400 RL Review
Today I was able to do a walkthrough on this 2007 Keystone Montana 3400 RL Fifth Wheel. I was really impressed with this RV. It's a little bit older of an RV, but it still has an incredibly modern layout. One aspect of the layout that I really liked was the island in the kitchen area when you first walked in this RV. It has a similary feeling as the 2014 Flagstaff 8528 IKWS in the sense that everything is layed out very well for functionality and style. The 3400 RL has quite a mibt more countertop space than the 8528 and I really like the upper cabinets with shelves. I think that it adds a nice touch to the interior of the Fifth Wheel.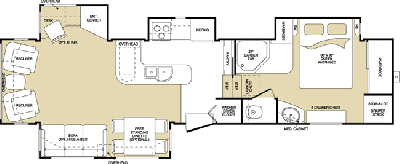 This fifth wheel has four slide outs that really help to make it really spacious. I really enjoyed the layout of the living quarters with the queen size bed and the garden tub right in the room. It's a really nice touch. Even though I'm not a huge fan of having all of the restroom items along with the living quarters, I like the fact that the cammode has it's own room.
All in all, I think that this is a great Fifth wheel for traveling around and would be a great value if you can't afford the newer 2014 Flagstaff 8528.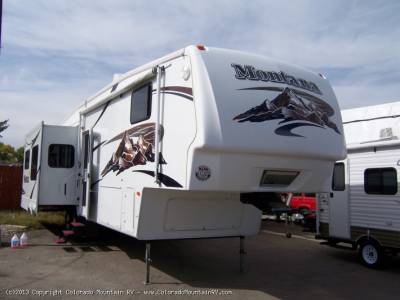 What do you think of the 2007 Keystone Montana 3400 RL? Write your comments below.
By accepting you will be accessing a service provided by a third-party external to https://coloradomountainrv.com/