Finding the Perfect Floor Plan
As I have said previously, when you are choosing an RV, the most important thing to consider is the floor plan. The different floor plans that travel trailers in particular offer really appeal to a broad range of needs. I have compiled this list of the different kinds of floor plans that are offered, and their benefits. I hope this can help you in your journey into the RV lifestyle!
Rear Kitchen
Models with a rear kitchen, like the 246RKS, offer you a bigger kitchen than most other models, with a lot more counter space. If you do a lot of cooking, or even just a little cooking for a lot of people, a rear kitchen model might be just right for you!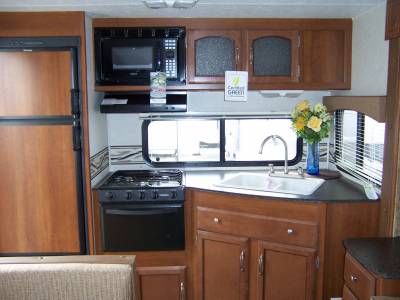 Rear Lounge

The rear lounge style of RV might be ideal for the family who likes to really relax on their getaways. Rear lounges offer a bigger living room area, and they generally come with lounge chairs for you to kick back in. If you are the kind of person who likes to enjoy the great outdoors without giving up any of the luxuries of your own home, a rear lounge model like the Freedom Express Liberty Edition REDSLE might be the perfect model for you!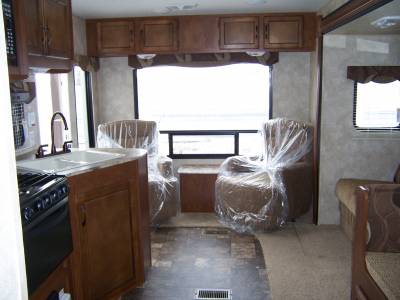 Bunk Houses
Do you have a big family or a lot of friends that you would like to sleep comfortably? Then look no further than the Catalina Santara 292QBCK. Bunk houses in general offer a ton of sleeping space, and often, more dining space. Bunk houses can range in sleeping capacity from 3-4 (these ones generally just have one set of bunk beds and a master bed) all the way to 8-10! Those with more sleeping capacity usually have two sets of bunk beds, a dinette that makes into a full sized bed, and a couch that makes into a double sized bed. The bunk house style of RV is absolutely perfect for the family that wants to camp together in comfort!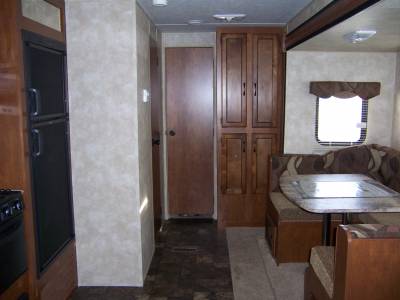 Now, there are a ton of other floor plans available out there, so if you have any questions about which would be right for you, please give me a call or leave your question in the comments!
-Pehrie
(970) 223-6363
By accepting you will be accessing a service provided by a third-party external to https://coloradomountainrv.com/